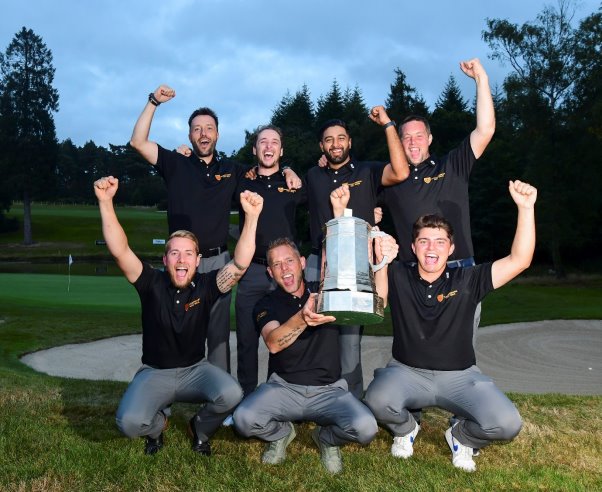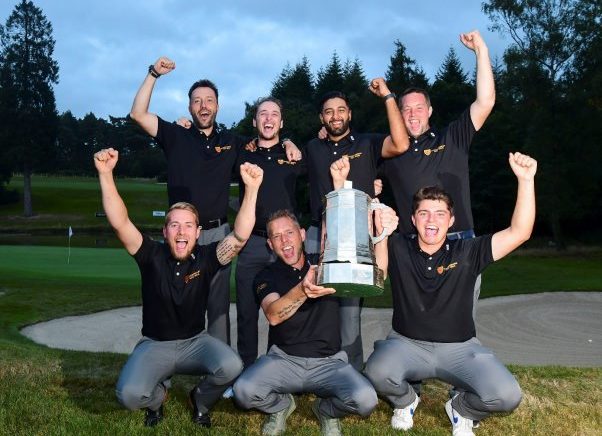 Gloucestershire ended a 42-year wait for success in the English Men's County Finals following a dramatic conclusion to events at Remedy Oak Golf Club in Dorset.
A narrow 5-4 win against Northumberland ensured glory for captain Gary Ward and his team. Having also secured full points against BB&O and Warwickshire on the opening two days of the round robin event, Gloucestershire ended the series with a 100% winning record. The record books will show Gloucestershire won by two points from BB&O with Northumberland third and Warwickshire fourth.
England international Haider Hussain finished his series with a perfect six out of six record and proved to be a stalwart of the winning side. However, the league table alone does not tell the story of a dramatic final day's play in Dorset.
For long spells of the afternoon the destiny of the title hung in the balance and at one stage it looked as if the glory may be heading BB&O's way. As Gloucestershire faltered in the singles against Northumberland, BB&O were powering towards a 7-2 win against Warwickshire. Not until Nick Day went dormie two up against Andrew Minnikin to guarantee a half point from the final game (he eventually took a full point) was the outcome of the title decided in Gloucestershire's favour.
That left Day – who endured heartbreak in this event back in 2018 when Gloucestershire lost by half a game point to Yorkshire – thrilled to be the player who delivered the big point.
"Gloucestershire's very own postman," joked Day. "It feels amazing – this is redemption for three years ago when we lost to Yorkshire. I'm the old man of the team as 1979, when we last won, was the year before I was born. We've been close before, but these are a great bunch of lads and it's fantastic to win. It's a massive big-up to the county from juniors right up to the first team."
Jake Phillips – who turned around his match against Mark Wharton as Gloucestershire sweated on victory – added: "This for me is as good as it gets. I'm like a kid at Christmas at the best of times. I can't sleep and turned up knackered every day because I'm just excited! But it's been a top week and Gary Ward our captain does a great job getting everything organised. Everybody loved the course, there's not a bad hole, just stunning. To redeem ourselves for three years ago is just incredible."
Going into the final day, Gloucestershire knew that they needed a half from the match with Northumberland to guarantee the title and took a 2-1 lead from the morning foursomes into the six afternoon singles. The singles wins delivered by Hussain, Phillips and Day got Gloucestershire over the line. For BB&O, it was a case of so near yet so far and they will rue the loss to Gloucestershire on the opening day having fought back so well on days two and three.
Having taken the morning foursomes against Warwickshire by a 2-1 margin, final day singles successes for John Gough, Olly Huggins, Ben Quick, Rory Browne and Taylor Paul at least gave BB&O the satisfaction of knowing they pushed the winners right to the wire.